The Camper and Camping - 2016
Updated 14mar2018
The current camper page is available here I'm just breaking out 2016 here to keep the pages small and fast loading. This seems to be mostly an issue for phones right now (and my mifi), but it's probably good discipline anyway.
The trailer is a Work and Play 30WRS. It's probably too big for me at 36 feet, but if I want to haul the motorcycle and have reasonable amenities, it should work well.
There's a new page for Bicycling and kayaking here. I thought that the camper page was kind of losing track of it's subject. I want it to focus on the trailer and going from place to place (even though it will stay parked in one spot for the summer).
Lake Aire Feb 2016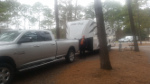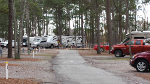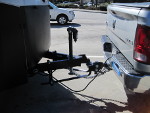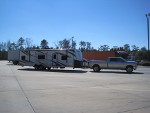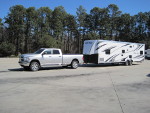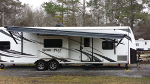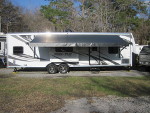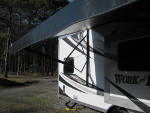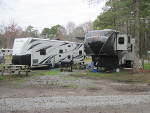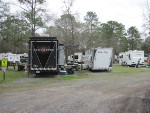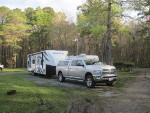 Lake Aire has been "home" for almost 2 months. It's swampy and the spots are very close together, but it's in the country with trees and "wild" life. The main virtue is a marvelous location - reasonably close to everything Charleston.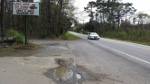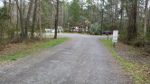 it's also been a source for pet control humor.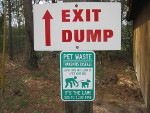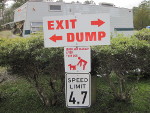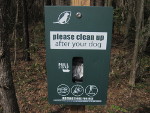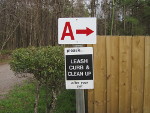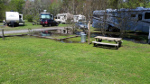 Driving North Apr 2016
Wednesday april 13. I moved from Lake Aire to Cunningham campground just north of Spartanburg, SC. A bit over 200 miles. Took me just over an hour to get set up. The place seems much like the last. So far all the campgrounds I've been to have open wifi - I wonder if people are using VPNs. I might add that and see how performance is. The mifi should work well no matter what, but it will ultimately be expensive.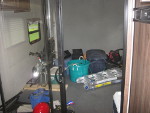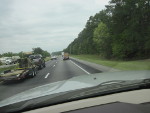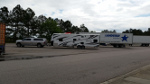 The trees at Cunningham dripped some sort of sap. I noticed it on my truck when I left in the morning and when I unrolled the awning, there were numerous sticky patches. This is something to watch out for.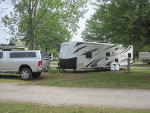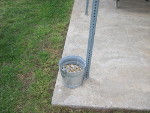 I've often seen the signs for the Museum of Appalachia at Clinton, Tn, but never found a reason to stop so close to Knoxville. I did go to the Museum, but the highlight was the Norris Dam - I will get back there and add some pictures once I have a kayak with me.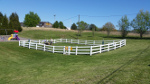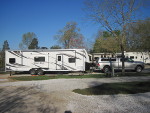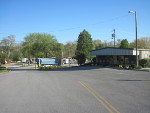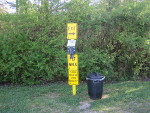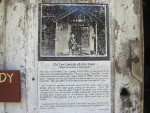 Columbus Woods N Waters Apr 2016

The drive from Critenden, Ky over to Columbus, In was a mess. I scouted the route by driving first to Madison (I didn't like the way the route came into town), then to Lawranceburg (lots of construction) on my way to jungle jim's. I decided to go up to 76 and take 46 across. Turned out to be closed, so I took 3 down to North Vernon. I was late, but had left enough slack that there was no problems and I'm set up in the Woods-N-Waters campground.

I think I got to Columbus Woods-N-Waters campground on April 20th, but haven't had much chance to take pictures. Mostly because of the rain, but partly because I haven't been thinking about it. Besides it's a lot of work that I haven't figured out how to automate. This is the first place I haven't noticed a pick up your dog poop sign.
Michigan May 2016
It's May 23rd and I'm now at my brother's place south of Osseo, Michigan. Constant low hills - not a flat spot for miles unless it's a swamp or a small lake - and there are lots and lots of those. The short term plan, once I get stuff cleaned up is bicycling and kayaking.
This is the new spot getting the trailer set up behind the barn.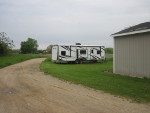 and finally getting the trailer level and ready to use. It will be interesting to compare the quietness of the country to the constant noise of a real campground sitting behind a manufacturing plant and filled with other campers.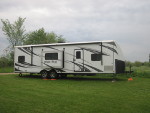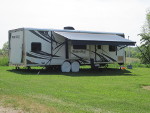 Getting in a short bicycle ride (about 13 miles)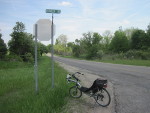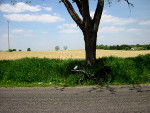 And scoping out places to do some kayaking: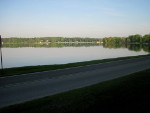 We run into all sorts of nusances in the country. From racoons to kids. This one got dealt with most appropriately (we took him for a ride).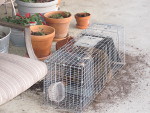 It's a real mix of camping adventures with Racoons dominating the entertainment towards the end. We're up to eight so far with this series of pictures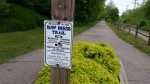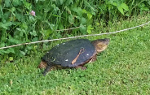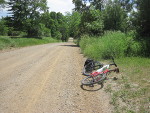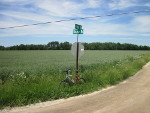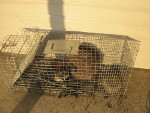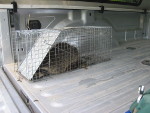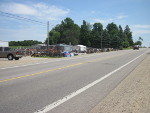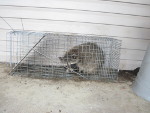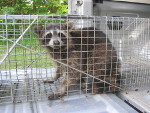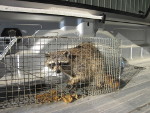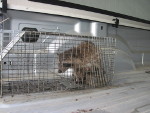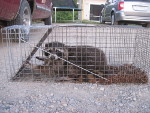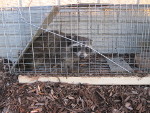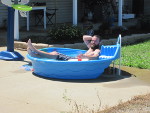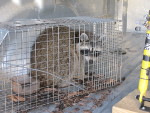 20Jul2016
So a lot more Racoons, I'm trying to sell the Haro Mountain Bike, and a new sailboat. The flowers along the roads were fantastic for a while. these are my favorites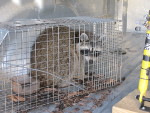 Then more wildlife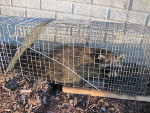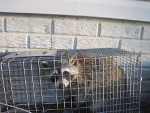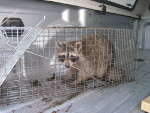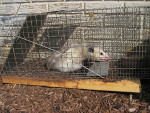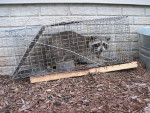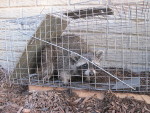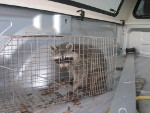 And lots of fun things seen and done :)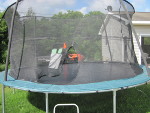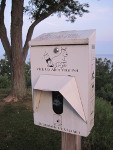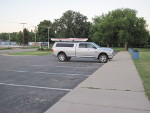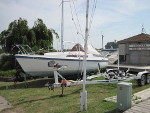 And a new boat.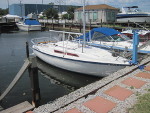 This is my first video (cat of course). Not sure I like doing it, but let me know if it doesn't work.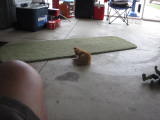 August is a bit skimpy
Most of what I've been up to isn't photogenic so this is kind of skimpy.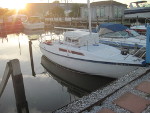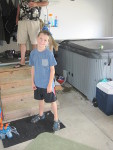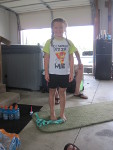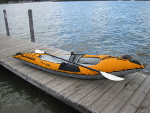 September Already
Well, a lot of redundancy. I see the same things, have the same routine most days and take naps.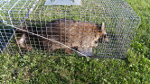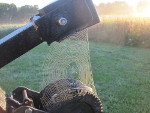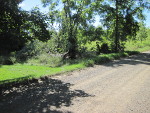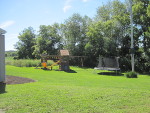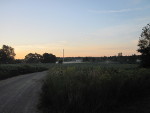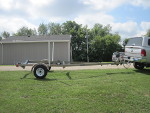 It's getting to be fall at the camp site.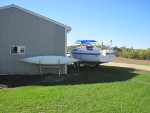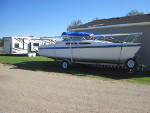 and i'm getting more critters in the live trap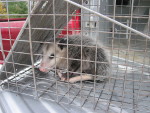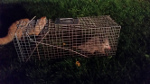 Woods-N-Waters Oct 2016
It was pretty easy and I'm at Woods-N-Water campground again in Columbus. The boat is wrapped up, we got the trailer off the grass, and we had the first day of frost on 10Nov in Columbus. I'm busy (some of the time) scoping out campgrounds further south.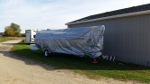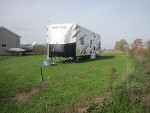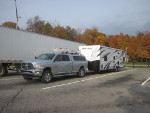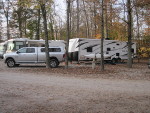 Aiken, South Carolina
After one of those "it could have been a lot worse" trips, I'm camped at the Aiken RV park and ready to start checking out the area. I'll stay here at least a month, but I think it will be colder than I want so at some point I'll probably look into moving even further south. Here are some recent pictures: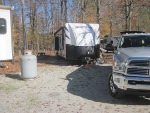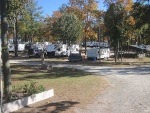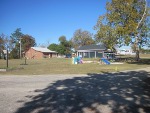 Here are some pictures from when Nikki and I went walking around Charleston: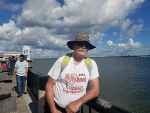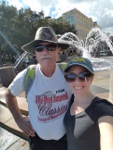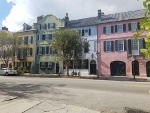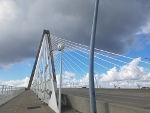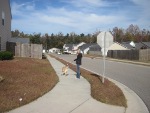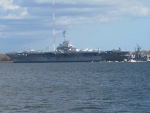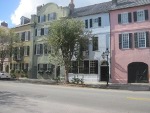 And some more camping pictures back in Aiken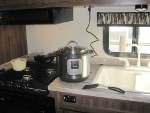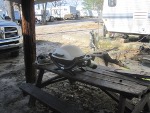 That's Radhika one of my old freinds from the Jamestown days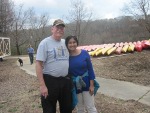 When I talk to people at the gym, or whereever, they universally think than living in an RV is inexpensive. For me at least it's not. My trailer is a lot more expensive to maintain than a house and you don't save much on things like taxes. The only thing that the trailer gives me is a more desirable location and that's not cheap either. I'm not complaining - I like this a lot better than living in a house in Indiana, but I need to be able to give the people who ask me a much more thought out answer than "it's not cheap and you just need to think through your daily expenses"
References
There are hundreds or maybe thousands of blogs and youtube channels devoted to RVs. I'm going to cite a few of them here. If anyone is interested, these will more than get you started. And to serve me as a reference when I'm on the road.